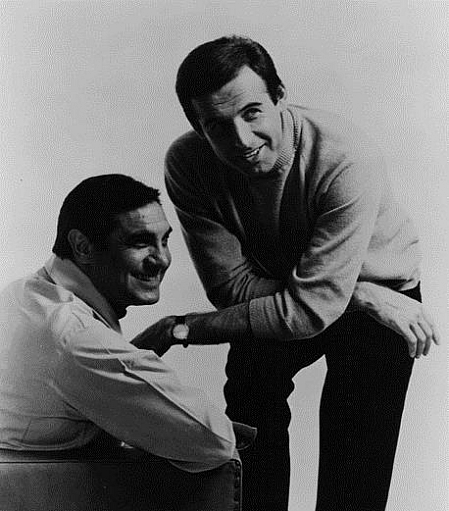 When they launched their act in 1965, Sandler and Young were outwardly scoffed by show-biz insiders who claimed they didn't have a chance. In the turbulent '60s audiences for popular music were splintering. Rock and folk became a banner for social change. In 1964 the Beatles invaded America and, for a time, pushed even the biggest of stars aside.
So why did Sandler & Young suddenly achieve so much attention?
Incredibly and in a matter of months after stepping on the stage as "Sandler & Young," Tony and Ralph set audiences on fire and brought new life to the entertainment world. Good fortune had brought them together to enthrall millions of adoring fans from the mid-sixties to the mid-eighties – from the stage, through television and on radio. Sandler & Young LP record albums were sold throughout the world and are still enjoyed today.
Long before Tony Sandler and Ralph Young met
, they each had established a singing career and both had years of stage experience under their belts. Both talents were discovered early on. Ralph once told Tony that he had wanted to become a cantor; Tony planned to follow his older brother's footsteps and become a doctor. Neither of them came from stage-bound families. Both were born into modest means.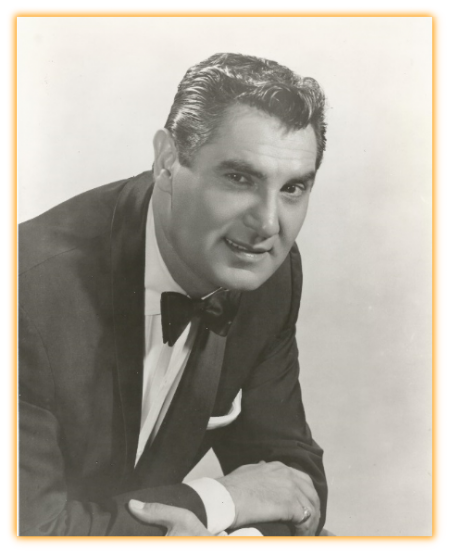 Ralph Young was a Big Band Singer
Ralph Young (born 1918, Raphael Israel), from the Bronx, New York got his first job working in the mail room at Warner Brothers Studios in Brooklyn, but soon was able to use his vocal talent making song demos for music publishers in New York. The exposure led to Ralph singing with big band leaders including Teddy Powell, Tommy Reynolds
, Les Brown, and Shep Fields. As a big band vocalist, Ralph Young was best known for his rendition of the song "Tis Autumn" on a hit Les Brown album.
When WWII intervened Ralph was drafted to be a gunner with the Marines, but he was quickly transferred to the Philippines where he entertained the troops as a military band leader.
),
After the war Ralph found a niche as a production singer and was known as the "King of Production Singers". He did enjoy a very short run on Broadway as part of the cast of the musical, "Whoop-up" that opened in 1958. Unfortunately, that show closed after 56 performances due in part to a newspaper strike. Ralph never made the big time. What he gained was a world of show-biz savvy and contacts that would serve him well later. Little did he know at the time how his fortune would change.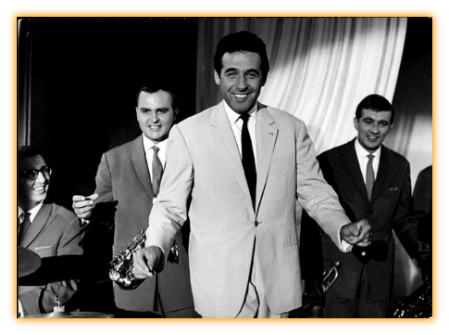 Tony Sandler was a Popular Singing Star in
Western Europe
Tony Sandler (born 1933, Lucien Joseph Santelé), from Flanders, Belgium began formal vocal training at age 11 when a priest at his school discovered his talent. Two years later he was singing as a soloist with the internationally famous French boys choir, Les Petits Chanteurs a la Croix de Bois. His schooling was rigorous in all the academics, and included Latin and ancient Greek. This program provided a strong bae in linguistics that would serve him mightily in his life and career. White still in school Tony's voice matured (into a baritone cantabile), and he began to attract the attention of admirers while singing for various public events. Novelty Records discovered him, and at age 18 Tony recorded his first big hit, a single called "Het Lied Van de Zee" ("The Song of The Sea") which brought him immediate popularity throughout Flanders. But when the Korean War broke out, Tony was drafted to serve with the Belgian Air Force. Because of his linguistic skills he was brought in as a radar specialist. By day he guided Allied planes, and at night he sang for the Allied troops. After his discharge, Tony signed a significant contract with Polydor Records. It was a big break. He began churning out hit singles with large orchestra accompaniment, further extending his name throughout Belgium, Holland, and Denmark. Tony then landed a contract with Ariola Records in Germany. By this time Tony Sandler was competing with the biggest stars in Europe. His popularity spread through Western Europe, from London to Berlin to Brussels and Vienna. He starred in four movies, had made hundreds of appearances on major European stages, recorded dozens of hits, and hosted his own television show series in Munich. Tony was headlining on the swanky Italian Riviera when he was recruited by producer/impresario Frederic Apcar to perform alongside an American, Ralph Young, in a new lavish French revue in Las Vegas, "The Casino de Paris".

Tony Sandler and Ralph Young met for the first time in October of 1963, in Milan, Italy where rehearsals were being held for The Casino de Paris show. The entire cast was European. Ralph Young was the exception, yet this American was quickly embraced by the cast. They called him "Chicago" – Ralph always wore his leather bomber jacket, was casual and congenial even though he understood none of the languages used there. Tony translated for Ralph so that he would feel included. Before they left for the U.S., Tony took Ralph on a lavish tour all over Northern Italy, Switzerland, Austria, Germany and Belgium. A personal friendship and mutual respect quickly developed between them.
"The Casino de Paris"
opened at the Dunes Hotel in 1963 and was an overwhelming success running two shows a night, seven days a week, month after month, 365 days. That show ran for years.
But in a matter of days into the show Tony and Ralph became disenchanted with their roles. They were principals, their talents were underutilized, and frankly they were bored. Meanwhile backstage, they passed the time between cues singing more challenging material. They discovered an exceptional blend in their two voices and began to explore the harmonies and styles that would soon define them.
Sandler & Young were known for their unmatched harmonies, and for their fresh approach to any song – they covered the gambit from popular to traditional . Their arrangements were inventive, often juxtaposing two different songs and languages. The sound of their two voices combined was rich – Ralph the bass baritone, and Tony the baritone cantabile. Whether they sang in unison or in harmony, the result was beautiful and often stirring.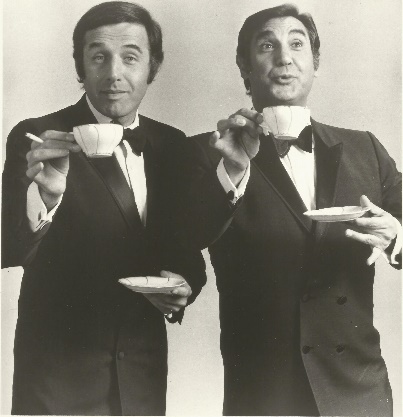 At the end of their first-year contract with the Casino de Paris,
both Tony and Ralph declined Apcar's offer to renew. They had already
decided to leave the show and perform together as a team. Tony was being pressured to return to Europe with offers and contracts, but he made the decision to stay in the U.S. and explore his opportunities here. He knew full well that he could always go
back. Ralph decided to take the leap with Tony.
And thus, "Sandler & Young" became an entity. This unlikely pair developed a singing act that capitalized on their musical talent and exploited their cultural differences with good-natured humor – it was genius, and it was genuine.
Soon after their break with Apcar
, Sandler & Young were booked as a lounge act in various venues in Las Vegas, Reno, and Tahoe. But just a few months later, while Sandler & Young were performing at the Las Vegas Sahara Lounge, comic legend Phil Silvers slipped in back to watch them rehearse. That evening, after his own show in the Sahara's main room Phil announced, "I don't know what the rest of you are doing after my show, but I'm going to the lounge to listen to that hot new singing duo, Sandler & Young." Their shows were packed from that night on, and
celebrities began to flock to their shows to see what all the buzz was about.
Sandler & Young headlined on the Las Vegas strip for fifteen years
, at the Tropicana Hotel, The Desert Inn, The Sahara Hotel, The Las Vegas Hilton, The Thunderbird, Caesars Palace, with a long stay at the famous Flamingo Hotel, always playing
to sellout houses. Next door to the Flamingo, at the
Sands Hotel Frank Sinatra and the rest of the "Rat Pack" played to the same packed houses – audiences alternated between the two shows.
For twenty years they played most of the major concert stages in the United States and Canada, with occasional performances in San Juan, Mexico City, and the Riviera. They drew crowds in the lucrative theater-in-the-rounds and 3000 seaters and stadiums (for up to a hundred and five thousand people) and in arenas (including Madison Square Garden).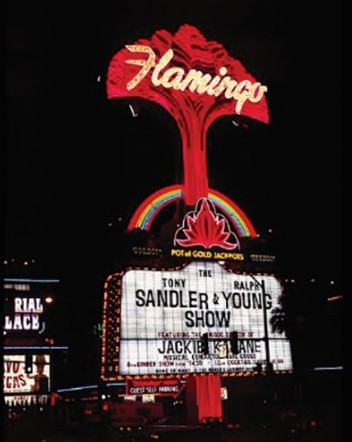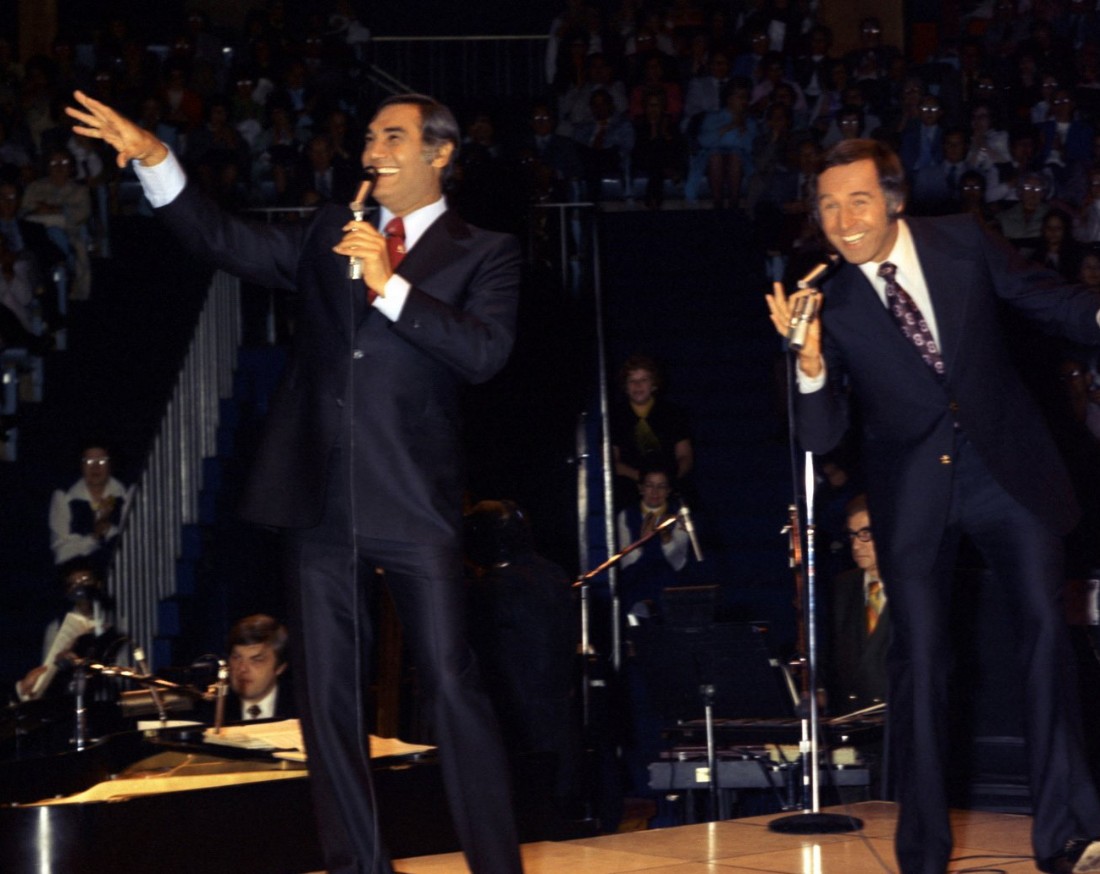 The well-heeled flocked to see Sandler & Young at the premier nightclubs including the world famous Persian Room at the New York Plaza, The Camellia House at The Drake Hotel in Chicago, the Empire Room of the Palmer House in Chicago, The Fairmont Hotel's Blue Room in New Orleans and the Fairmont in San Francisco, The Coconut Grove in L.A., the Blue Room at The Shoreham Hotel in Washington, D.C., The Fontainebleau in Miami, Harrah's Atlantic City and Harrah's in Reno and in Tahoe, The Royal York in Toronto, and The Queen Elizabeth Hotel in Montreal, The Tropicoro Nightclub in San Juan Puerto Rico, the Hilton on Waikiki Beach in Honolulu, and The Casino Monte Carlo in Monaco.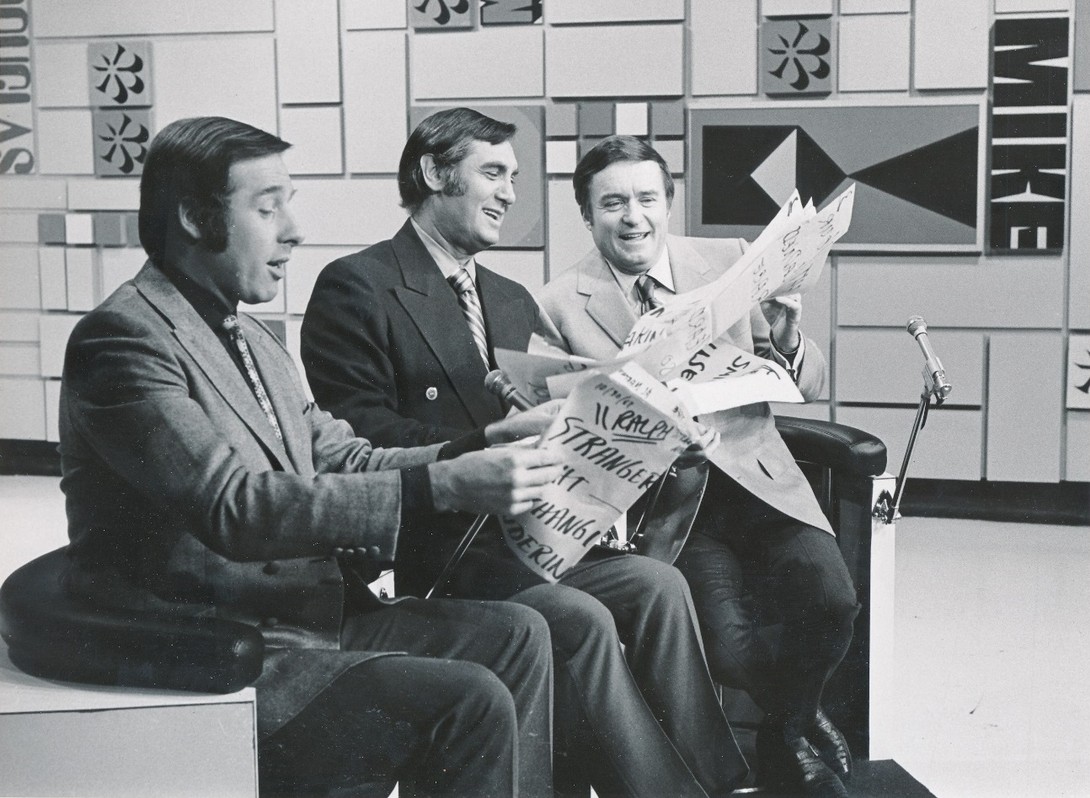 They were frequent guests on every TV variety and talk show. Ed Sullivan liked Sandler & Young so much
he brought them back for eight shows plus his final broadcast. They were guest stars on the
Milton Berle Show at the Hollywood Palace, the Red Skelton Hour, and on Dean Martin's show, The Dinah Shore Show, Mary Martin's "Over Easy" show, Andy Williams' show, Mike Douglas, Merv Griffin, David Frost, Johnny Carson's Tonight Show, and the Today Show with hosts
Barbara Walters and Hugh Downs.
In 1969 they were in London, England hosting and performing in NBC's Kraft Music Hall
Summer Season for 13 weeks with a who's who of guest entertainers, including Ella Fitzgerald, Sid Caesar, Vincent Price, Lena Horme, Judy Carne, Victor Borge, Carol Lawrence, Cyd Charisse, Barbara Feldon, Norman Wisdom, Terry Thomas, Frank Gorshin, Nancy
Sinatra, Kaye Ballard, Dave King, and others. Millions of television viewers fell in love with Tony Sandler and Ralph Young.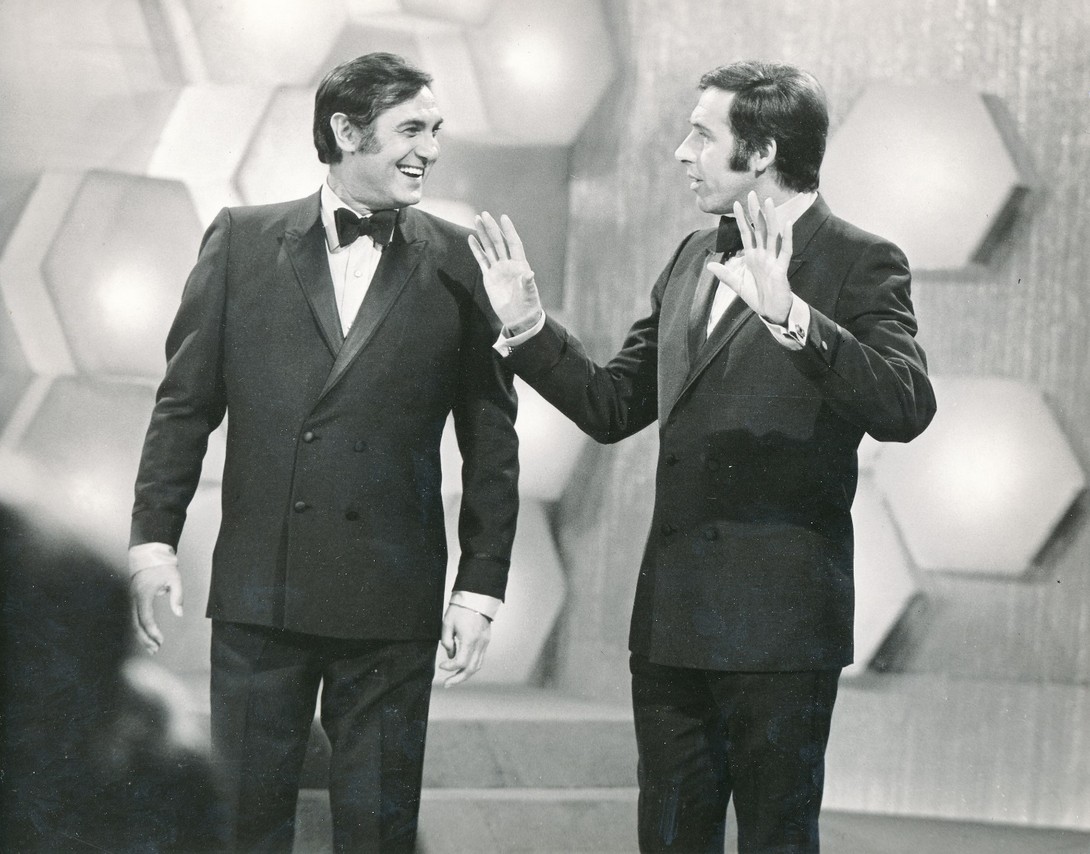 They recorded ten LP albums for Capitol Records, and another ten albums with Ralton Records (their own label) plus Pickwick International, Inc. and P.I.P. Records. Their recordings were heard over radio stations across the nation, and Tony and Ralph became popular radio show guests.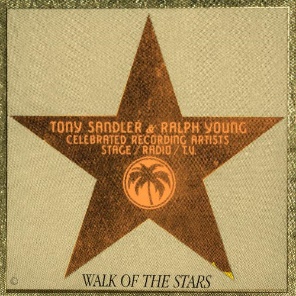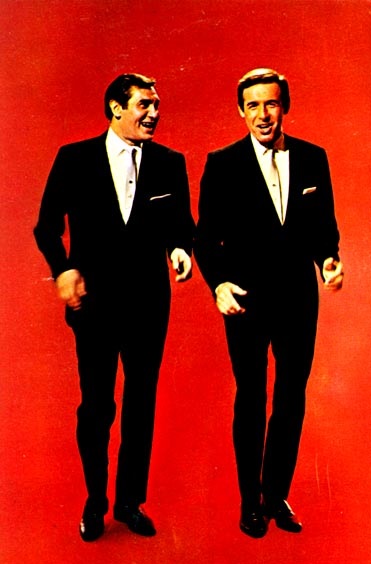 The celebrated team of Sandler & Young were never equaled. Tony Sandler and Ralph Young's contribution to the entertainment world is now celebrated with their own star in the Palm Springs Walk of Stars.
Ralph and Tony did not ask each other to change or acquiesce to the other's style. Ralph recalled that Sandler & Young allowed him to be himself and show his comic side. Tony recognized that the blend of their two very different voices was uncanny, rare. He sensed potential in what he and Ralph could do together. They had fun working on new material, and the result was a one of a kind, never-to-be-duplicated singing duo.
Audiences knew that when they came to see Sandler & Young they would enjoy delightful music, clean humor and joie de vivre. They could depend on spending a completely uplifting evening with two very attractive and charismatic men who cared very much about making their audiences feel good.