NBC's Kraft Music Hall 1969 Summer Series
Hosted by Tony Sandler and Ralph Young
Video Volume Two
of The Tony Sandler Legacy Series
TM
Each of these eight discs is a full 1-hour episode from
this delightful television series.
Each episode is a variety show with hilarious comedy sketches, beautifully produced song and dance numbers, comic drama,
and performances by superstars from the U.S. and Great Britain.
See Sandler & Young on stage and television at the height of their career. These shows were restored from original broadcast tapes for the best possible audio and video quality.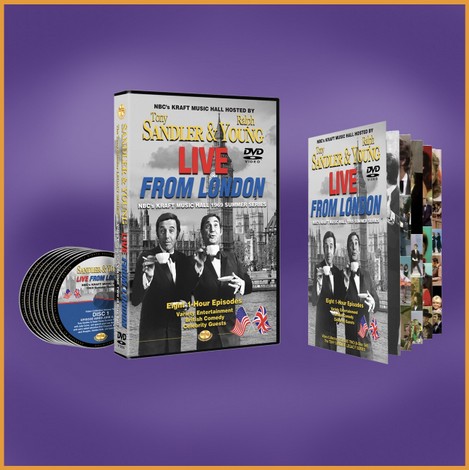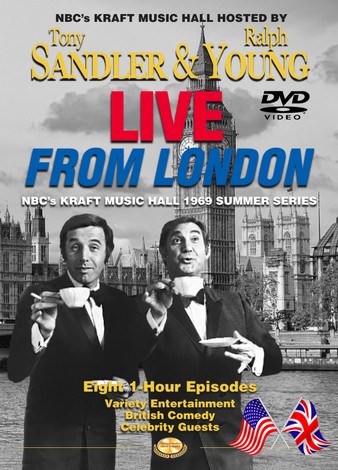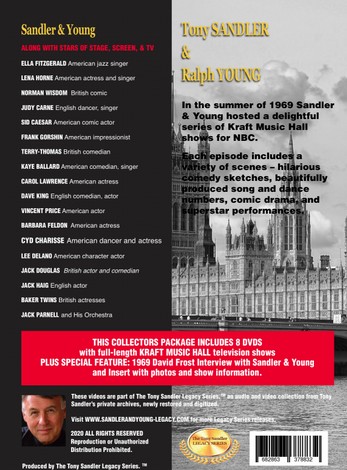 This Collector Package Includes

An 8-DVD Box Set with Eight Full-Length Kraft Music Hall Television Shows
Eight hours of quality entertainment never before available for home viewing
With performance by stars of stage, screen, and television, including:
Ella Fitzgerald - American jazz singer
Lena Horne - American actress and singer
Norman Wisdom - British comic
Judy Carne - English dancer, singer
Sid Caesar - American comic actor
Frank Gorshin - American impressionist
Terry-Thomas - British comedian
Kaye Ballard - American comedian, singer
Carol Lawrence - American actress
Dave King - English comedian, actor
Vincent Price - American actor
Barbara Feldon - American actress
Cyd Charisse - American dancer and actress
Lee Delano - American character actor
Jack Douglas - British actor and comedian
Jack Haig - English actor
Baker Twins - British actresses
Valerie Van Ost - British film and TV actress
Jack Parnell and His Orchestra
PLUS BONUS FEATURE:
1969 David Front Interview with Sandler & Young
PLUS 12-page INSERT (available only with this product)
with the scene line-up for each episode, and photos
Beautifully Packaged for Gifting
Video Samples From Live In London
a external link will open to product