Tony Sandler & Ralph Young
This Capitol Records album recorded by Tony Sandler and Ralph Young continues to be a favorite holiday tradition for families around the world. Even today these songs sound fresh with fabulous orchestral arrangements, and the beautiful interpretations by Sandler and Young bring back the true spirit of Christmas. An excellent holiday gift.
(This album is also included in the full 10-CD Box Set, "Sandler & Young,
Those Capitol Recording Stars
")
This Single Compact Disc Jewel Case Includes

11 holiday songs recorded by Sandler & Young for Capitol Records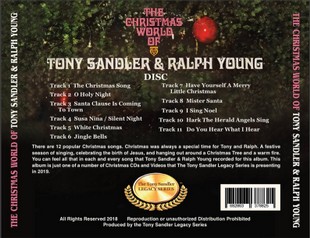 THE CHRISTMAS WORLD of Tony Sandler & Ralph Young
1.
The Christmas Song
2.
O Holy Night
3.
Santa Clause Is Coming To Town
4.
Susa Nina / Silent Night
5.
White Christmas
6.
Jingle Bells
7.
Have Yourself A Merry Little Christmas
8.
Mister Santa
9.
I Sing Noel
10.
Hark The Herald Angels Sing
11.
Do You Hear What I Hear
a external link will open to product
a external link will open to product